Carl Nielsen wrote almost 300 songs. Some are solo songs in the classical tradition, but the great majority are simple, popular songs. No other important composer has invested so much of his productive energy in the most unassuming genre: the com­mu­nity song. This duality as both a radical and a popular artist is one of Carl Nielsen's dis­tinctive features, and it colours his production both internally and externally.
The work with popular songs did not begin as a project for Carl Nielsen, but it ended up becoming one. The earliest songs from this particular repertoire came from highly varied contexts – for example a theatre production (Havet omkring Denmark), a summer revue (Du danske mand) and a collection of Lieder (I solen går jeg bag min plov). The popular potential of those songs is something Carl Nielsen is unlikely to have reckoned with. Even the overwhelming success in 1907 of the socially indignant song Jens Vejmand came as a surprise to him. The song made Carl Niel­sen one of Denmark's best known artists, and it reached every corner of the country. Jens Vejmand became both a subject of political debate and a 'hit' – and in 1910 a dance orchestra recorded it on a cheerful record as Jens Vejmand Polka!
But something had been aroused in Carl Nielsen, and in time he saw himself as someone who could contribute to the formulation of a new, popular kind of music, a renewal of the song tradition that had roots as far back as J.A.P. Schulz and his collection Lieder im Volkston from the 1780s. Schulz thought a new song should have a "Schein des Bekannten", a feeling of the apparently familiar, if it was to be sung by and have qualities for everyone.
These thoughts came to carry great weight in Carl Nielsen's view of music, and alongside his increasingly radical works, in the 1910s and 1920s he systema­tically wrote his popular songs – for the first time in 1914 at the urging of the Folk High School principal Johan Borup, and later he himself established a collaboration with the composer and hymn reformer Thomas Laub. They put new melodies to older Danish poems, even though several of these already had melodies by other composers. Nielsen and Laub divided up the poems between them and published the melodies in a joint collection, En Snes Danske Viser (A Score of Danish Songs), which appeared in two volumes in 1915 and 1917. The project received good press coverage, not least when the songs were presented in a kind of 'conceptual' concert where the vocal soloists on the stage were dressed in everyday clothing.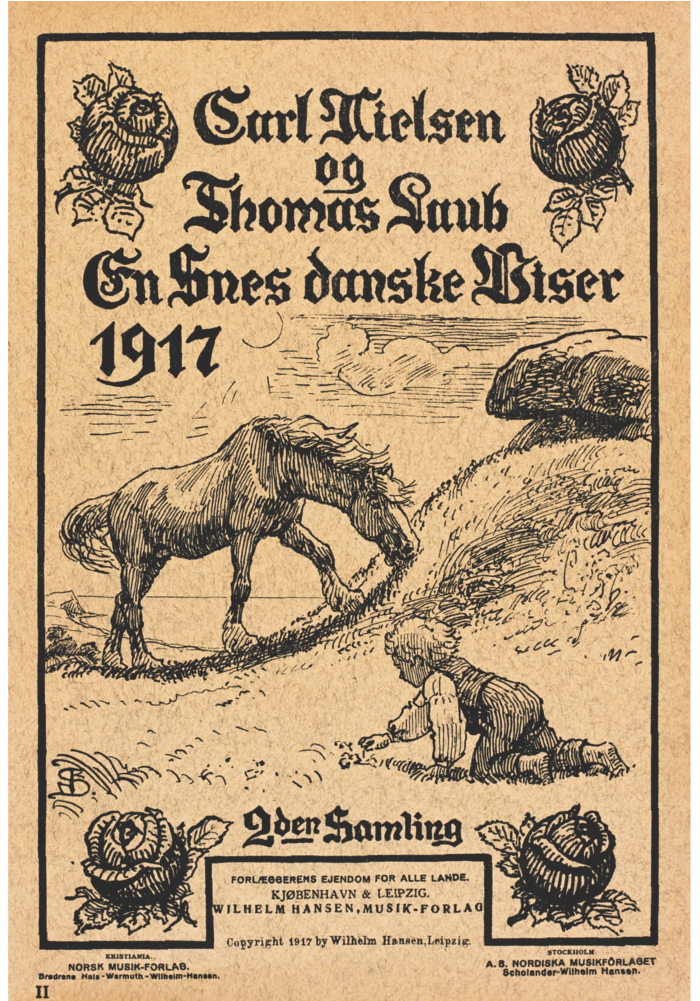 Carl Nielsen came from the countryside and had grown up with traditional Danish folk music. Without directly quoting folk songs or the music of the folk musicians – as the fully paid-up 'National Romantics' often did – with his popular songs he struck a musical tone that sounded familiar, that had the "Schein des Bekannten". To his wife Anne Marie he wrote:
"It is strange that when I write these easily comprehensible, simple melodies, it is as if it is not I who am the composer at all; it is as if – how shall I put it – it is people from my childhood over on Funen or as if it is the Danish people who want something through me. But perhaps it sounds too grand because the matter is so plain and simple, at least for me."
The popular songs are often grouped together under the general heading "Folk High School songs", a term that is hard to translate properly, as is the alternative name "Danish songs" (which together make up "the treasury of Danish song") which does not have the right associations in a translated context. In order to move beyond the problem of language and genre, in the new Carl Nielsen Edition singable translations in English have been made of all the songs.
So what are they? Simple, strophic songs – not folk songs, but songs for every­one, and ideally for a whole nation; utility music that serves the poetry and the specific framework for community singing, intended for use in schools, churches and public meetings, and above all for the Danish Folk High Schools, where adults edu­cate themselves, without taking exams, to learn more about history and culture.
In 1922 Carl Nielsen was one of the editors of the first edition of Folkehøj­skolens Melodibog, the official collection of melodies for the repertoire of folk high school songs. 33 of his own melodies were included in the first edition. The selec­tion has varied over the years, songs have been excluded and new ones included, some have become obsolete, others rediscovered. The present eighteenth edition includes 36 of his songs, and many more have been written by other composers in Carl Nielsen's style.
In order to understand Carl Nielsen's artistic personality one has to under­stand the popular songs as an integral part of his oeuvre. Sometimes the fusion is straightforward, for example in Moderen, a production from 1921 about the reuni­fica­tion with South Jutland/North Schleswig, which Nielsen concluded with the magni­ficent patriotic song Som en rejselysten flåde. At other times the popular melodies are mixed in without words. One finds a direct melodic quotation in the variation move­ment of the Wind Quintet, while the last movement of Symphony no. 3 ("Sinfonia espansiva") with its tribute to everyday working life, is a paraphrase of the popular song as melody type. And even in some of Carl Nielsen's most moder­nist works, the Clarinet Concerto and Symphony no. 6, 'popular' melodic fragments will appear as artistic material.
In the 1920s Carl Nielsen was asked by the song composer Thorvald Aagaard to write a "popular symphony", and although he promised to do so, fortunately nothing ever came of it. It was unnecessary to advertise his stance so clearly when it could already be heard. "If one penetrates to the nucleus of my compositions, it will probably be evident that this nucleus is the same both in the large symphonies and in the small songs. Yet this has been difficult for many people to understand," Nielsen said in a newspaper interview in 1928.
In other words, one must not try to seek out the radical artist's musical idiom in Carl Nielsen's popular songs. The situation is quite the reverse. With his folk high school songs in one's ears – and in one's bones – the connection becomes so obvious that much of his output quite simply evokes that "feeling of the apparently familiar."
Revised version of a text written for the album "Carl Nielsen – Songs for choir", released 2014 by Dacapo Records. Link to the album here