31 year old pianist Sabine Weyer from Luxembourg has made a great impression with her thoughtful and stylish albums, covering a repertoire from Rameau to Shostakovich. I got the opportunity to ask her a few questions.
Luxembourg is located as centrally as it gets in Europe, squeezed in between Germany, Belgium and France.
How do you feel connected to your home country – and your neighbor countries?
"My mother language is Luxemburgish, a sort of Flemish/German dialect. But the two official languages of my country are German and French. I also speak English and Italian. I was educated first of all in Luxembourg as a child, but then I went to a "Conservatoire national de region" in Metz (France) at the age of 16, because I completed the studies in Luxembourg quite fast and was still too young to go to a Conservatory for university studies abroad – we have none in Luxembourg, by the way. After that, I did my studies then in Brussels, first with Daniel Blumenthal, then with the Serbian pianist Alexandar Madzar.
As a Luxemburgish pianist there are advantages and disadvantages: On one hand we are not so many musicians here because it is a small country, so the competition might be easier than in countries like France or Germany. Plus, Luxembourg is quite a wealthy country, so there is money for culture in general…. But being so small, we don't have a very high level of education in music. No Bachelor, no Master's program, only the basics."
You seem to concentrate on solo repertory, and regarding piano concertos on the Viennese masters – and Shostakovich. Can you tell me about your musical preferences?
"Indeed, I concentrate a lot on solo repertory, but also perform chamber music very much. I made my debut with orchestra in a Mozart concerto and liked it so much that I repeated the experience several times later. For my final exam in Brussels 2013, my teacher asked me which concerto I would like to play, and I didn't hesitate one second: Beethoven 4, because for me it's the most expressive, the most emotional and beautiful of all 5. At the time I planned my fourth CD release (with Nordwestdeutsche Philharmonie), I was very much into Shostakovich and recorded the Second Concerto. There are no musical reasons why I haven't performed Schumann, Brahms and Chopin in concert yet… it's just a matter of opportunities!
I have also played Bach 1, 2, 4 and 5th Concerto, because I am in love with this pure, transparent style, the joyful expression of this music."
Thankfully it is fully accepted today to play Bach on the piano, but of course the music needs special attention to the "pure, transparent style". How do you achieve that?
"I was always interested in performing baroque music in a way that would be as close as possible to the tradition, without ever becoming "extreme". That's why I studied harpsichord for a few years in order to better understand how it works, what the ornamentation rules in baroque times were, how the different instruments influence the tempi, etc. Of course, this knowledge must stay in the "background" in a subtle way, not influencing directly the interpretation, which should sound as performed on a modern piano. That's why I don't hesitate to use the pedal in Bach's Sarabandes, amplifying the sound in respect to what would be possible on a harpsichord. I like to use the possibilities of the grand piano, but bearing in mind the clearness in structure and form (and trills) of the ancient instrument.
Moreover, in all Bach's work, I am always attracted very much by the rhythmical patterns and the dance-like elements (especially in the Suites, of course). There is almost always a religious, let's say spiritual component as well, which I try to render through the intensity of the sound, the light and luminous sound I try to create."
Can you tell me more about your fascination with Shostakovich. History explains much about his music, but true classics are relatable to every new generation, I guess?
"The Shosta legacy is immense. Without the historical explanations, I guess his music remains accessible and listenable to any generation after his, but it helps a lot to know in which era he lived and what where the problems, the struggles he had to deal with in order to understand the depth, the irony often, the sarcasm of his music. I am not sure that one can grasp the sense of his music without knowing about the despair, the fear, the terror people lived in during Soviet times.
More specifically for the second piano concerto that I recorded, there may be no background knowledge needed as it is a less political work, written for the 19-year old son Maxim and of a somewhat "lighter" character – although Shosta is never light…"
The world is full of pianists – how do you carve out a niche for yourself?
"Indeed, it is quite difficult to find a niche because of the number of good pianists on the market. You can try competitions, but personally this has never been my thing, I hate them… I did a few and then gave up. So, the only way for me was to get a good "ID card" and record a CD, that would present me as a pianist with the repertoire I feel best in. That's why I chose Debussy – French music is somehow my thing – and combined it with Rameau, which is rarely recorded on the piano and opens a huge field of questions for interpretation. And indeed, I noticed that it was a right choice, and my CD was perceived exactly in the way I wanted it to.
My agent, who is firmly encouraging me, then said it would be good to have a completely different second or third CD repertoire-wise, but also in the setting (followed then a CD with chamber orchestra with Bach and Mendelssohn, again a solo-CD with romantic transcriptions by Bach and then the Shosta CD last year). I got excellent reviews, so somehow things have become easier. I am now in quite a good network of people inviting me regularly, and that's basically because of the success of the CDs."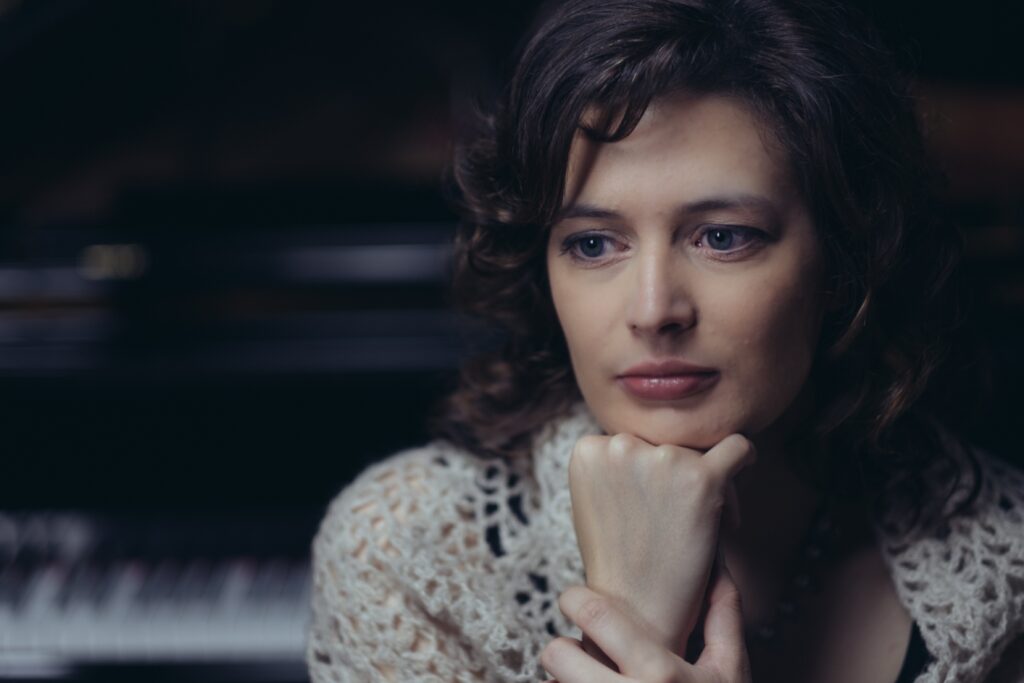 More about Sabine Weyer at her website http://www.sabine-weyer.com/media/